Welcome to Scottco Marine, web site for Scottco Distributors, your one-stop-shop for boat dock products and marine accessories!
For 25 years we've been a distributor of the highest quality name brand marine products in the industry:
Ace Dock Floats
ThruFlow Deck Panels
Pearson Fiberglass Pilings
Connect-A-Dock
TaylorMade
Dimex
EdgePro
Bedford Technology
Dock Edge
PRICING – Since Scottco is a wholesale distributor we do not publish prices on our website. We do value your business and are eager to provide you with a quote. Please add items to your estimate cart and we or one of our dealers near you will respond.
WEB SPECIALS – Click here for some great deals!
New Product! Connect-A-Port™ 2XL PWC Drive On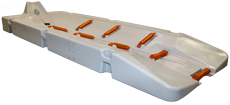 The Connect-A-Port™ 2XL PWC Drive On adds a safe harbor for your one-, two- or three and four -place personal watercraft! — just roll off and you are ready to go!
Features:
One-, Two- or Three and Four - place personal watercraft
Ultra Tough, Polyethylene Construction
Two Keel Rollers
Four or Six Bow Rollers
Patent Bow Stop
Cable & Clip for securing PWC
Multiple Molded-in Tie Down Loops or Handles
Anti-skid Walk Area
Universal Hull Support
Front or Side Mounting
5-Year Product Warranty

New Product! TitanSTOR Roto-Molded Dock Boxes, the toughest premium eco-friendly dock boxes in the marine industry.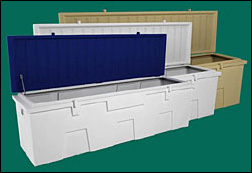 Features:
All-Stainless Hardware. Will never rust.
Double-Walled Lid. Oblivious to extreme weight on lid.
UV Resistant. Protection against fading and discoloration.
Tan, White, & White with Blue Lid.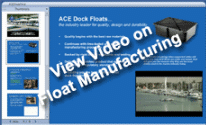 Dock Floats by Ace
Unmatched Quality! The leading choice of quality dock builders and marina owners. Over 60 standard sizes available.
Wood Dock Hardware
We manufacture our own steel Dock Hardware, then it is hot dipped galvanized.
Wood Dock Plan Kits. Do-it-yourself instructions for assembly.

Eaton Marina Power Equipment
Scottco is pleased to announce that we are carrying a new product line - Eaton Marina Power & Lighting Products.
Dock Accessories
Dock Ladders, Dock Bumpers/Corners, Dock Cleats, Fiberglass Dock Boxes, Blow-Molded Dock Cushions.
Decking Options
ThruFlow Interlocking Panels, MoistureShield® Composite Decking.
Pearson Pilings
Fiberglass Composite Pilings. Wood rots. Steel rusts. Concrete deteriorates. Fiberglass lasts. Just ask those in the boat building industry. Whether you are building a commercial or residential pier or dock, you can now choose composite pilings that not only outlast all others, but have many other unique benefits.
Connect-A-Dock


Virtually maintenance free modular floating docks that easily connect together to form a variety of sizes and configurations.

Scottco Marine has multiple warehouse locations to quickly and efficiently fill your orders. To reduce freight costs we always ship from the location nearest you.